William Starzman

Appears in

Player

Age

32

Gender

Male

Nationality

United States of Americaa

Affiliations

United States Marine Corps (Captain)
Captain William 'Bill' Starzman is a character played by Shaun in the Dimension Drive campaign. As a combat veteran, Bill brings his military expertise to the United Nations Multiverse Command.
Description
Bill was born in Corpus Christi, Texas. He is 32 years old, African American, 6'2" and weighs 220 lbs. He has recently divorced.
Personnel File
Edit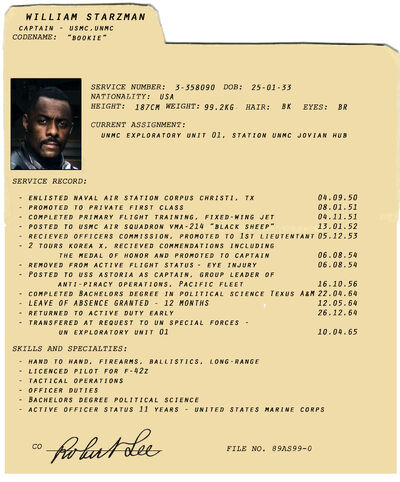 Ad blocker interference detected!
Wikia is a free-to-use site that makes money from advertising. We have a modified experience for viewers using ad blockers

Wikia is not accessible if you've made further modifications. Remove the custom ad blocker rule(s) and the page will load as expected.