The Landscape
Comments

0
156pages on
this wiki
The Landscape is a dark and dangerous place. A land beyond the civilized borders of Karthoogh . Your adventure begins in Grem's Slide , a small outpost on the borders between civilized, ordered land ruled by fair and just kings, and the Landscape.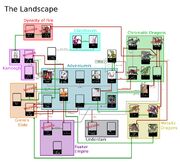 Notable NPC's and Factions

Edit
Character Goals
Edit
A list of character's goals in an unprioritzied list:
List of Episodes

Edit
(list of The Landscape Episodes)
Locations
Edit
Aerie
Border
Brightomb
Leftscar Volcano 

The Landscape - Leanor Farwall

Added by

Javocs
Artifacts and Magical Items
Edit
For information on artifacts and magical items that appear in The Landscape campaign, please visit the Artifacts of The Landscape wiki page.