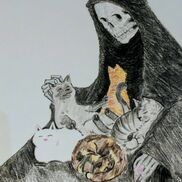 House of Bob is a Calgary based, pen and paper role playing game podcast featuring a number of different RPG systems and cycling players. We play one-shot adventures, and ongoing campaigns! Check us out by clicking the link right above or below!
Important Links
Edit
Official Website: www.hobcast.com/
Facebook: HoBcast
Twitter: @houseofbobcast
RSS: http://www.buzzsprout.com/98260.rss
Itunes: https://itunes.apple.com/us/podcast/house-of-bob/id1232011965?mt=2
Google Play: https://play.google.com/music/m/I6ymkntxkvz4c4jz4j734zn2jay?t=House_of_Bob
The House of Bob Wiki
Edit
The Collected Histories of the House of Bob; their adventures and stories, presented in wiki format so that future generations may know of and revel in their glory. You have found here a great treasure. Do not hesitate: go forth and peruse it's sacred pages.
The Archives
Edit
A collection of past games played by the House of Bob, including plenty of original characters, campaign worlds, episode summaries and artwork.
Latest activity
Edit