Shogo Yamahoshi

Appears in

Player

Age

(unknown)

Gender

Male

Nationality

Japan

Affiliations

University of Tokyo (Professor), PSIA (former agent)
Professor Shogo Yamahoshi, Ph.D. is a character played by Dan in the Dimension Drive campaign. He is the translator for MPRS.
Description
Shogo attended the University of Tokyo where he obtained a degree in Linguistics as well as his doctorate in Communications and Written Language. He later recieved international fame when he cracked the Voynich Manuscript and was given the Nobel Peace Prize for discovering and deciphering the first alien language. After working with the Public Security Intelligence Agency for several years, Shogo has moved on to become a University of Tokyo Professor of Linguistics.
Personnel File
Edit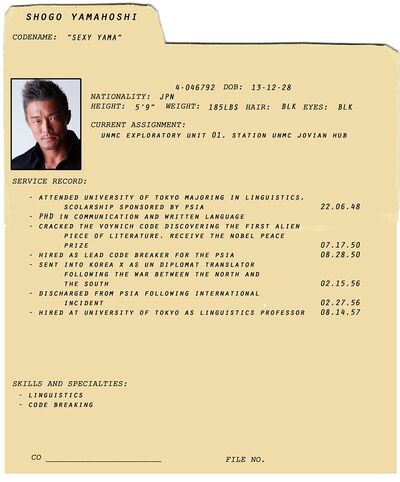 Ad blocker interference detected!
Wikia is a free-to-use site that makes money from advertising. We have a modified experience for viewers using ad blockers

Wikia is not accessible if you've made further modifications. Remove the custom ad blocker rule(s) and the page will load as expected.